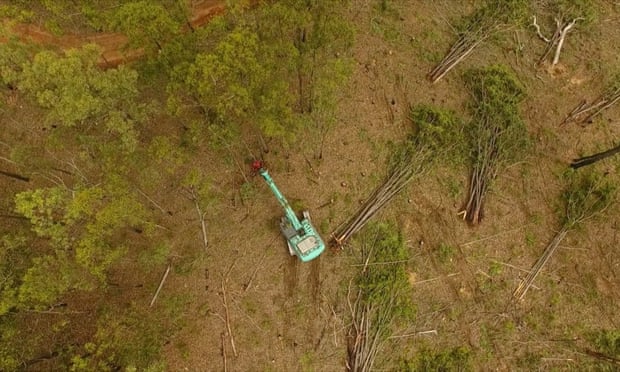 Emissions projections data estimates more than 60.3m tonnes will be emitted this year – equivalent to more than 10% of national emissions.
More than $1bn of public money being spent on cutting greenhouse gas emissions by planting trees and restoring habitat under the Coalition's Direct Action climate policy will have effectively been wiped out by little more than two years of forest-clearing elsewhere in the country, official government data suggests.
The $2.55bn emissions reduction fund pays landowners and companies to avoid emissions or store carbon dioxide using a reverse auction – the cheapest credible bids win. The government says it has signed contracts to prevent 124m tonnes of emissions through vegetation projects – mostly repairing degraded habitat, planting trees and ensuring existing forest on private land is not cleared.
Cape York traditional owners call for land-clearing halt to protect burial sites
Based on the average price paid by the government for a tonne of carbon dioxide, the projects will receive about $1.48bn from taxpayers as they deliver their cuts over the next decade.
Meanwhile, forest-clearing elsewhere in the country has released more than 160m tonnes of carbon dioxide since the emissions reduction fund began in 2015. Emissions projections data estimates another 60.3m tonnes will be emitted this year – equivalent to more than 10% of national emissions.
An analysis by the Wilderness Society suggests the official figures underestimate the rate of land-clearing, and in reality the projects paid for from the Direct Action emissions reductions fund would have had their work nullified in even less time.
https://www.theguardian.com/environment/2018/may/29/land-clearing-wipes-out-1bn-taxpayer-funded-emissions-gains
Header photo shows the extent of Camphor tree poisoning opposite Wilson Creek Hall and school.