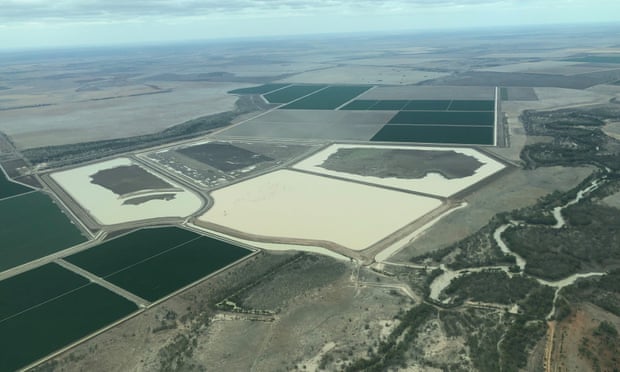 Photographs taken by Centre Alliance senator Rex Patrick of cotton farms on the Moonie River in southern Queensland. The South Australian royal commission into the Murray Darling Basin plan is expected to deliver a scathing assessment of the plan that was meant to save the river system from ecological disaster. Photograph: Rex Patrick
These photos were taken by the Centre Alliance senator Rex Patrick from a light plane over southern Queensland near Goondiwindi, on Wednesday.
They show rivers such as the Condamine relatively full, and storages on cotton farms holding thousands of megalitres of water.
Yet three hours away in north-west New South Wales, the Barwon and Darling rivers are a series of muddy pools.
Darling River crisis: the farms without safe drinking or washing water
Read more
Fish are dying in their hundreds of thousands at Menindee and people living in towns and on properties along the Barwon-Darling are battling to secure water fit to drink, bath in and feed their stock.
https://www.theguardian.com/australia-news/2019/jan/31/photos-reveal-queensland-cotton-farms-full-of-water-while-darling-river-runs-dry
https://civileats.com/2019/01/30/a-green-new-deal-must-include-food-and-farming/