A quote rrom E.B. White.
I would feel more optimistic about a bright future for humans if we spent less time proving we can out smart Nature and more time tasting her sweetness and respecting her seniority.
FRANKFURT (Reuters) – Bayer said it had agreed to delay a proposed settlement to deal with future claims relating to allegations that its widely used weedkiller Roundup caused cancer after a U.S. judge questioned the plan.
The German company said on Tuesday that lawyers representing those preparing a class action had withdrawn a request for court approval of the $1.25 billion scheme, part of a broader $10.9 billion agreement to settle close to 100,000 U.S. lawsuits related to Roundup.
"The withdrawal will enable the parties to more comprehensively address the questions recently raised by Federal District Court Judge Vince Chhabria of the Northern District of California who presides over the federal Roundup litigation," Bayer said in a statement.
Last month Bayer agreed to pay as much as $10.9 billion to settle close to 100,000 U.S. lawsuits related to Roundup.
(Reporting by Keith Weir; Editing by Arno Schuetze)
From the Sydney Morning Herald.
Bayer will keep selling its weed killer Roundup in Australia and fight local litigation against the product, despite agreeing to pay up to $US10.9 billion ($15.8 billion) to settle tens of thousands of claims in the US alleging it causes cancer.
Executives from the company's US and Australian operations vigorously defended glyphosate-based weed killers on Thursday, saying the product was safe to use and backed by a large body of scientific evidence collected around the world.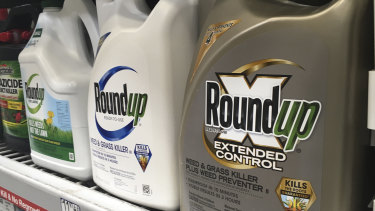 "What I want to make clear is we continue to proudly stand behind the safety and utility of our products, and our commitment to offer them to farmers and other users in Australia and around the world," said Brett Begemann, chief operating officer of Bayer's crop science division.
"The decision to resolve these cases was driven by our desire to bring greater certainty to farmers we serve every day," he said.
https://www.theguardian.com/world/2020/jul/08/what-kind-of-face-mask-gives-the-best-protection-against-covid-19