Deadly diseases from wildlife thrive when nature is destroyed, study finds
Rats and bats that host pandemic pathogens like Covid-19 increase in damaged ecosystems, analysis shows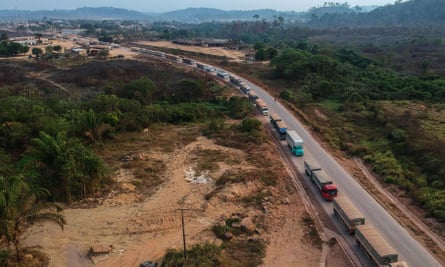 The BR163 highway in Moraes Almeida district in the Amazon rainforest, Brazil, September 2019. Photograph: Nelson Almeida/AFP via Getty ImagesDamian Carrington Environment editor@dpcarringtonPublished onThu 6 Aug 2020 01.00 AEST
The human destruction of natural ecosystems increases the numbers of rats, bats and other animals that harbour diseases that can lead to pandemics such as Covid-19, a comprehensive analysis has found.
The research assessed nearly 7,000 animal communities on six continents and found that the conversion of wild places into farmland or settlements often wipes out larger species. It found that the damage benefits smaller, more adaptable creatures that also carry the most pathogens that can pass to humans.
The assessment found that the populations of animals hosting what are known as zoonotic diseases were up to 2.5 times bigger in degraded places, and that the proportion of species that carry these pathogens increased by up to 70% compared with in undamaged ecosystems.Advertisementhttps://282d6174f0201c57fdbf1cd1a11453c2.safeframe.googlesyndication.com/safeframe/1-0-37/html/container.html
Humans populations are being increasingly hit by diseases that originate in wild animals, such as HIV, Zika, Sars and Nipah virus. Since the coronavirus pandemic began, there have been a series of warnings from the UN and WHO that the world must tackle the cause of these outbreaks – the destruction of nature – and not just the health and economic symptoms.
In June, experts said the Covid-19 pandemic was an "SOS signal for the human enterprise", while in April the world's leading biodiversity experts said even more deadly disease outbreaks were likely unless nature was protected.